Crime Beat: An extract from The Scream of the Butterfly by Jakob Melander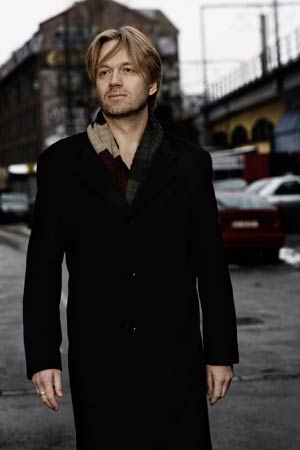 Some Nordic Noir from Jakob Melander, published today in Canada and the US.
2006
HAMBURG

THE DARKNESS HANGS over Grosse Freiheit — the horny mile, the beating heart of St. Pauli and Hamburg. The street exudes raw, pent-up desire and hungry eyes. Coloured lights and neon signs span a gaudy canopy across the narrow road. It's a circus, a freak show. Men and women stroll up and down: standing, posing, chatting or displaying themselves, alone or in small clusters. Everything is permitted and can be bought or viewed. Further ahead, at number 36, young people, boys and girls her own age wearing leather and make-up, are waiting to be admitted to tonight's concert.
There are speed freaks, old queers, and teenagers high on poppers and vodka-laced apple juice. The cocaine flows freely; the night is beautiful and terrible.
She sashays down the sidewalk in white stilettos, power-clicking her heels, moving in and out between the groups, the tourists, and the desperate. She is at ease and confident: this is her turf, this is her family.
"Serafine?" A six-foot-five drag queen grabs her. They kiss on both cheeks and he offers her a cigarette. "I haven't seen you for ages. Jürgen and I thought, you were . . . well, you know." He laughs, flaring his nostrils, and flicks his long hair.
She waves her cigarette in the air.
"Had to find somewhere else to live. The old place had become too gross."
He touches her dress lightly.
"You look gorgeous. Are you working tonight?" Then he gets excited. "Are you going to Georg's party later? Everyone will be there. It'll be so decadent."
Serafine leans closer and whispers, "Might be. Have you seen Doctor Stromberg?"
"The street-doc? But what do you want with him, sweetie?" She runs her hand across her cheek, the latest acne breakout hidden beneath foundation and powder. She knows it doesn't show, but the thing between her legs rages inside her body, ripping it apart. Soon her voice will break and she'll get hairs everywhere.
"You know —"
"Sera, stay away from that Scheisse." She clicks her tongue.
"But have you seen him?"
"Someone came by just now, saying he was backstage. You could always try there." He nods scornfully in that direction, but then he softens and smiles.
They air kiss and she crosses the street, waltzing under the neon sign with the elephant and into the darkness, where any- thing could happen. She greets the cloakroom attendant, Valeria, and continues into the twilight. The backstage area is a chaos of stagehands, and topless women wearing make-up and selling cigarettes. Helga and Roxette wave as she enters. They are on shortly. Helga is crawling into the coffin where she will hide until she rises just at the right moment, wrapped in a vampire's cloak. Roxette is playing the grieving widow, dressed all in white — and with deep cleavage. Serafine waves back, mouths good luck and blows a kiss, then turns right. She spots Horst, the stage manager, with his shiny bald head and his cheeks glowing red. In the dressing room, the usual eight to ten women and trans- sexuals sit in various stages of undress. The room is filled with flesh-coloured underwear, mirrors, cigarettes, alcohol, make- up, and powder — both for the cheeks and the nose. The smell of female sweat and the female sex. Oh, how she yearns for it. The wooden floor creaks under her stilettos.
Doctor Stromberg sits in a corner wrapped in his coat, his pale face sweating behind his glasses. Juliana hands him the money; he pushes a small wrapper across the table in return, which immediately disappears into her pants.
"Serafine?" Juliana turns to her. "You're not usually here this early." Juliana is a friend. She took her under her wing the moment she started working here almost a year ago.
"I just want a word with the doctor." She starts to shake. What if he says no? She sits down besides Juliana, too scared to look at Doctor Stromberg. Juliana gives her a quick squeeze, and doesn't say anything.
"What do you need?" The doctor's voice is coarse. It doesn't fit his sweaty face and glasses. She raises her head.
He has to . . . "Pills. For —" But she can't even make herself continue.
Doctor Stromberg, however, can tell just from looking at her. "Estrogen? It's not good for you. You know that, don't you?" "What other way is there? Not taking it?" The rage surprises even her. "Sandra killed herself last week. Angie tried last month." She says nothing more.
"How much, doctor?" Juliana asks the question for her. The other girls have stopped talking, and stare at their reflection in the mirror, pretending they are not there.
"An initial dose for one week is a hundred and fifty. You should probably expect to pay three hundred euros per week later on."
Three hundred euros a week? How will she get that kind of money?
Doctor Stromberg licks his thin lips.
"Or you could always get an appointment with a psychiatrist, who might refer you for public health treatment. After all, that's free."
Her heart sinks. She knows it is not an option. She has lived here in Hamburg illegally for seven years now.
"No, I'll find the money. Here." She opens her make-up bag, taking out the crumbled notes and counts them. "Here's a hundred and fifty. When will I need to increase the dosage?"
Doctor Stromberg opens his bag and takes out a small jar.
Later in the evening, once she has finished, she says goodbye to Juliana and the other girls. The jar with Doctor Stromberg's pills is in her make-up bag. She has already taken the first pill. She can't feel anything yet, but she is on her way. The butterfly wings flutter inside.
The show went like clockwork. She sang old German pop songs but didn't strip. The old gays adore her. But what will happen to her once her voice breaks? Who'll want to listen to her then? And three hundred euros? How will she get that kind of money?
The crowd outside has grown in number, their hunger a bleeding wound in the night. All veils have been dropped. The first drunks have fallen asleep in the gutter. Teenagers ramble about with their arms around each other's necks. Further up the street, near the Reeperbahn, beefy bouncers with icy gazes shovel tourist flesh into the strip joints.
Should she go to Georg's party? The only thing waiting for her at home is a cold, damp room with a tiny window over-looking a lightwell. Her life is confined to seven square metres, filled with a few bottles of rum and tequila. She never gets drunk in public; only at home alone does she dare to let go.
She takes out her cigarettes and lights up. Two country boys stop and stare. They're drunk, unpleasant.
Serafine clicks her tongue, turns away.
"So how about it, hun? How much for a blow job?"
"Are you gay or what?" says the other one. The first one laughs so hard he buckles. This is a clearly a change of scenery from the turnip fields.
"Why don't you two assholes go back to the barn and suck each other off? After all, that's what you really want to do." The country boys' heads jerk back. She knows that the contradiction between her high-pitched voice and her language makes most people bridle.
"No need for you to be sassy." The bigger of them steps closer. His gaze has taken on a different hue; the brutality simmers just beneath the surface. It's time to leave. Serafine turns, sashaying away from them as fast as she can in her high heels. She might be able to escape them at the rock club, as long as one of the bouncers she knows is on duty.
A hand lands on her shoulder, forcing her to turn around. "Don't you —" He gets no further. The bigger of the two
freezes halfway through his sentence, then releases his hold on her. Two other faces appear behind the country boys.
It has been a long time, but it's them, there's no doubt. She reverses quickly into the crowd, only just managing to see the country boys pushed out of the way. She catches a glimpse of the black barrel of a gun. Then her uncles are either side of her, frogmarching her across the street and into Dollhouse Diner.
"Ukë? Meriton?" She looks from one to the other. "What about —"
"Oh, they ran away." Meriton grins and sits down in a booth, placing himself on the outside. Ukë waddles up to the bar. He certainly hasn't lost any weight since she last saw him in Copenhagen.
"What are you doing here?" She tries to look relaxed. What do they want?
"Looking for you." Meriton's gaze scans the diner. He doesn't look at her. Ukë returns with Franziskaner vom Fass beers for him and Meriton, and a cola for her.
Meriton and Ukë clink their glasses.
"We thought we had lost you, Arbën." Ukë wipes the froth off his chin. His tiny eyes are fixed on her, blinking. Meriton takes over.
"Dora and Bekim couldn't find you. And then we discover you've been here all along . . . in the red light district."
Meriton gives her the look. She has brought shame on the family. The blood curdles into frosty lumps in her veins. Anything could happen now, but the odds are that she will be found with her hands tied behind her back in the Elbe River tomorrow morning. She turns her gaze inward and leaves her body, as she has trained herself to do. The same way she did when she ran away from Dora and Bekim.
But they don't hit her. Instead, Ukë hushes Meriton. "There, vëlla. Arbën needs us. And we need him." He turns
to her. "If we can find you, so can he. No more performing, do you understand? We need you alive."
"But —"
"No. It'll be like we said."
She clutches her make-up bag and the jar of pills, refusing to back down.
"I need money."
Meriton turns and looks at her for the first time. "For what? Drugs?" His gaze is contemptuous.
What can she do? Would they understand? She hunches her shoulders and stammers as she begins to explain about her body and the pills. When she has finished, Meriton snorts. Ukë says nothing and twirls his empty glass around and around. Eventually he looks up.
"Three hundred euros? A week? That's a lot of money." "I don't know how else to get it."
Ukë's eyes narrow again.
"If you agree to stop performing, we'll send you seven hundred euros every week. Then you'll have enough for food. I guess you have rent to pay as well?"
"Are you mad? Seven hundred euros?" Meriton squeezes his glass and stares at the remaining beer at the bottom. His face has gone red.
"Now, now, vëlla. It's still a good business. And we won't have to pay Bekim and Dora any more."
Ukë thrusts his hand into the pocket of his sweatpants, finds a greasy bundle of notes, and counts out seven hundred euros. "Here. This is for the first week. Remember: no more per- forming. And you must promise to keep in touch. Meriton, give him the phone and the bank card."
Meriton is still sulking, but pulls out a cell phone and a Commerzbank card, then slides both across the table to her.
"You'll use it only to text the number in the contact list every week when you've withdrawn the cash from the bank. Do you understand?"
This excerpt is taken from The Scream of the Butterfly copyright ⓒ 2015 Jakob Melander and Rosinate & Co., Copenhagen, Denmark. English translation copyright ⓒ 2015 Charlotte Barslund. First published in Denmark as Serafine in 2014 by Rosinate & Co. Published in Canada and the United States in 2015 by House of Anansi Press Inc. www.houseofanansi.com
What's been said about The Scream of the Butterfly:
"A fantastic and hell-bent finale, you simply won't see coming … Say hello to several nights without much sleep." – Nordjyske
"The Scream of the Butterfly is an ambitious crime novel that succeeds in almost every department." –Politiken
"With The Scream of the Butterfly Melander underscores, that he is one of the new, big names in Danish crime fiction." – Berlingske